1. The show wasn't supposed to be called "F.R.I.E.N.D.S"
Initially, the creators of the show had thought of very different titles for the show. "Insomnia Café", "Friends Like Us", "Across the Hall" and "Six of One" were some among them.
2. Ross and Rachel's relationship wasn't supposed to be the key relationship of the show
The much loved relationship on F.R.I.E.N.D.S was something that wasn't planned. The actual plan was to have Joey and Monica fall in love with each other and have their relationship as the key relationship of the series. Guess this change of plan actually worked in our favor.
3. Courtney Cox (Monica) auditioned and got selected to play Rachel, Jennifer Aniston was to play Monica
The producers insisted Courtney to play the role of Rachel, but Courtney had her roles switched with Jennifer Aniston because she found Monica to be a strong character. Now that's another change of plan we're grateful for.
4. Ross was written for David Schwimmer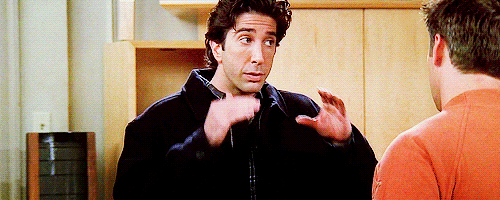 Executive producer Kevin Bright had worked with Schwimmer before and also the writers developed Ross's character in Schwimmer's voice.
5. Lisa Kudrow (Phoebe) hated playing the guitar

She had to take professional guitar lessons for playing the role of Phoebe. However, at some point, after learning only a few chords, Kudrow got frustrated and abruptly decided that she wasn't going to attend any more of the guitar classes. If she had complete knowledge over her guitar, Smelly Cat wouldn't have been what it is today. Thank God!
6. Except for the vital scenes (the scenes with the major plot twists), almost every other scene was shot in front of a live audience
Except for vital scenes, such as Ross saying the name "Rachel" instead of saying "Emily" at the altar, most of the scenes were shot in front of a live audience (an audience of almost 300 people). "It's kind of like a test to see if the material works, if the jokes work, if the story tracks," said LeBlanc.
7. Many including Lisa Kudrow believed Chandler to be gay
Most F.R.I.E.N.D.S fans from all over the country thought Chandler was gay. Even Lisa Kudrow had her own suspicions. However, David Crane, in 1997, told Entertainment Weekly, "No, Chandler isn't gay. Nor will he be gay."
8. The protest for equal pay
In 1997, all six cast members refused to work in the show until they all got an equal pay of $100,000. The producers caved in and they all received an equal pay ever since then.
9. Kudrow was actually pregnant while filming her "pregnant with brother's triplets" scenes Kudrow's pregnancy was written into the show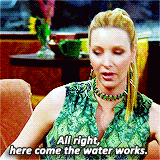 Courtney was pregnant during the final season, however, since they had previously announced that Chandler and Monica were incapable of giving birth to a baby, they simply decided to cover up her baby belly with makeup and costumes as much as possible.
10. Courtney's marriage to David Arquette
In the opening credits of the episode that was aired following Courtney's marriage to David Arquette, every cast member was given the last name "Arquette". "Jennifer Aniston Arquette," "Lisa Kudrow Arquette," and so on.
11. Bruce Willis (Elizabeth's dad) had to appear on the show for free as a result of losing a bet to Perry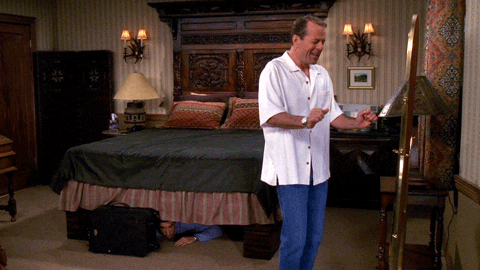 Perry placed a bet that "The Whole Nine Yards" would be number one in the box office on its opening weekend and Bruce Willis had bet against it. Perry's gut instinct of the movie's success had become reality, and so Bruce Willis was asked to give multiple guest appearances on the show free of cost. He had to donate his earnings for the guest stint to charity.
12. Matthew Perry had an addiction struggle throughout the series
Perry went to rehab for an addiction to drugs and alcohol in 1997. He went again in 2001. He later told People, "I was never high at work. I was painfully hung over. Then eventually things got so bad I couldn't hide it and everybody knew."